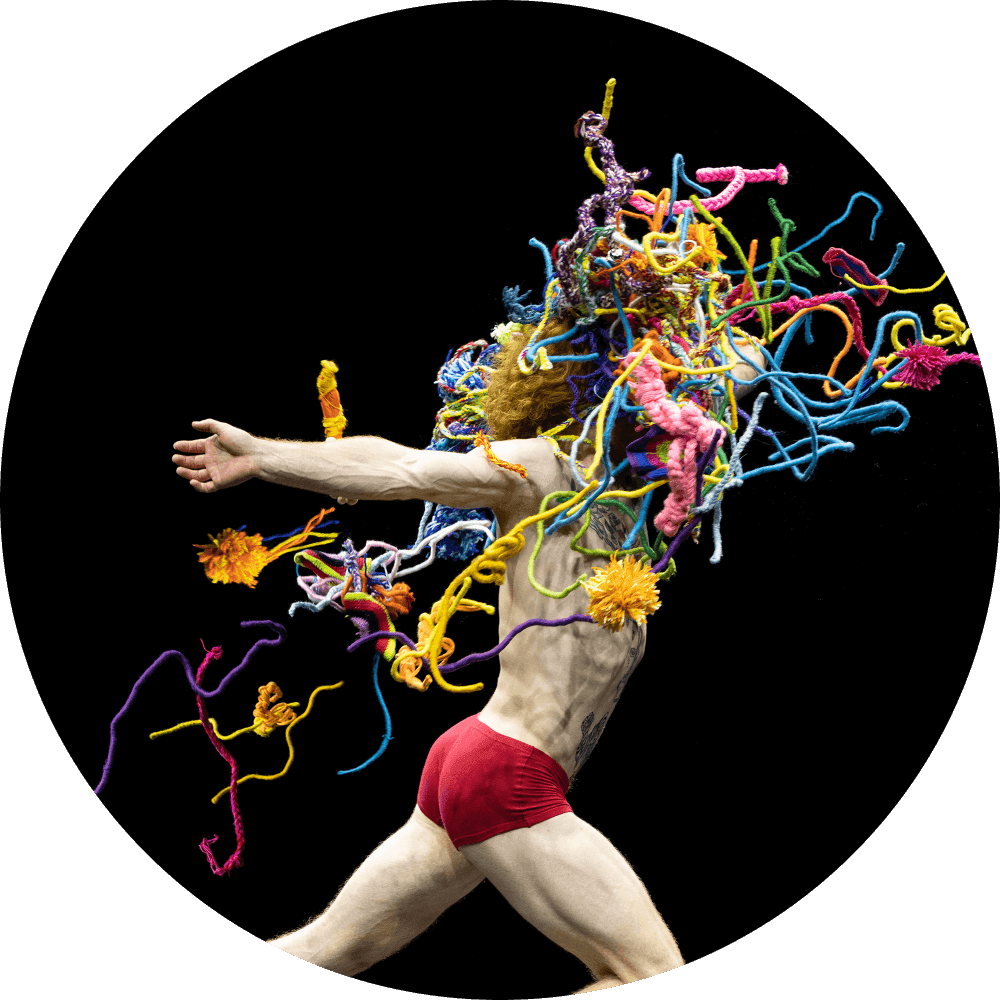 Collective exhilaration is the goal: an exuberant, immersive dance performance scored by Hiatus Kaiyote and featuring vibrant, kaleidoscopic fabric artwork from visual artist Hiromi Tango (and the community of Gurambilbarra [Townsville], who finger-knitted lots of it).

Tactile tour
A tactile tour will take place before the Saturday evening performance, allowing people who may experience the world differently (such as those who have a sensory sensitivity) to fully immerse themselves in the sets, costumes and props before the performance starts.
The tactile tour is free of charge, but registration is essential.
Audio described performance
The Saturday evening performance will be audio described. To book an audio described performance, please call the Theatre Royal's box office directly on (03) 6146 3300.
Wayfinder is presented in partnership with the Theatre Royal

Warning
Contains strobe lighting, theatrical haze, loud / startling noise, and interactive objects that emit light and sound

Credits
Concept, direction and choreography: Amber Haines and Kyle Page
Lighting design: Niklas Pajanti
Composition: Hiatus Kaiyote
Sound art and design: Byron J. Scullin
Sound aculpture design, construction, and implementation: Robert Larsen and Nicholas Roux
Visual design: Hiromi Tango
Design associate: Chloe Greaves
Design assistant: Jeanette Hutchinson
Performers / choreographers: Marlo Benjamin, Sabine Crompton-Ward, Tiana Lung, Damian Meredith, Darci O'Rourke, Tara Jade Samaya, Felix Sampson, Michael Smith
Production manager: Liam Kennedy
Company stage manager: Pip Loth
Production technician—technical operation and sound: Yoshie Kenny
Production technician—lighting and pearls: Thomas Roach

Supported by
Wayfinder was commissioned by Brisbane Festival and North Australian Festival of Arts (NAFA).
This project was made possible by Restart Investment to Sustain and Expand (RISE) Fund—an Australian Government Initiative.
This project has been assisted by the Australian Government through Creative Australia, its principal arts investment and advisory body. Dancenorth Australia is assisted by both the Australian Government through Creative Australia, its principal arts investment and advisory body, and the Queensland Government through Arts Queensland.
Dancenorth Australia is supported by Townsville City Council through their Strategic Partnerships Program, and gratefully acknowledges the Wayfinder Giving Circle, who has supported the making of this work.
Related